Here's our 2,500 subscriber giveaway! First of all, Thank you for being a subscriber, now it's time to give back. We'll be giving away 25 $100.00 gift certificates to premiumaquatics.com
Rules:
1. Subscribe to Premium Aquatics
2. Like this video
3. Leave a comment on this video
Winners will be announced on Premium Aquatics Facebook page on July 10th or when we hit 2500 subscribers.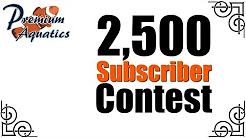 For a chance to win:
1. Watch video and hit Thumbs up
2. Subscribe if you haven't already to our channel
3. Post a comment on our YouTube video page