In Today's video we take a look at the Hanna checker High Range Copper Colorimeter available at Premium Aquatics.
Hanna Checker High Range Copper:
https://goo.gl/sxZxRU
The HI702 Checker®HC (Handheld Colorimeter) is a simple, accurate, and cost effective way to measure high ranges of copper. Designed as a more accurate alternative to chemical test kits, the HI702 provides quick, accurate results in a few easy steps.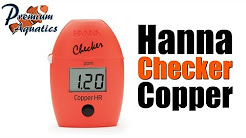 image free hosting
For a chance to win:
1. Watch video and hit Thumbs up
2. Subscribe if you haven't already to our channel
3. Post a comment on our YouTube video page