In Today's video we take a look at the Coral View Lens from Polyp Lab which is available at Premium Aquatics.
Coral View Lens:
https://goo.gl/Hya7tK
Capturing nature beauty in a perfect light, with the perfect angle using your smart phone or tablet have never been so easy with the new Polyplab Coral view lens.
Taking pictures of your beautiful corals often requires changing your aquarium light color spectrum or mount complex lighting setup. With the new Polyplab Coral view lens, take pictures quickly and easily for the perfect shot every time.
Visit Premium Aquatics:
https://premiumaquatics.com
https://www.youtube.com/watch?v=zOwo83FyL6c&feature=em-uploademail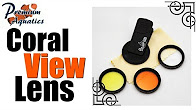 For a chance to win:
1. Watch video and hit Thumbs up
2. Subscribe if you haven't already to our channel
3. Post a comment on our YouTube video page