In this video we take a look at the AUQA GADGET Auqashield UV Sterilizer which is available at Premium Aquatics.
Auqashield UV Sterilizers:
https://goo.gl/2sjehD
Cloudy water, Algae and parasites lead to the frustration of many hobbyists. The main reason why these problems occur is that each multiplies quickly; free floating in the tank, unseen to the naked eye. Only when itís too late, the hobbyist becomes aware of their presence. By adding a UV Sterilizer into your aquarium, you can minimize the risk of these problems occurring.
Visit Premium Aquatics:
https://premiumaquatics.com
https://www.youtube.com/watch?v=c0AP...qsdikbk0h00410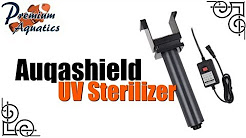 For a chance to win:
1. Watch video and hit Thumbs up
2. Subscribe if you haven't already to our channel
3. Post a comment on our YouTube video page